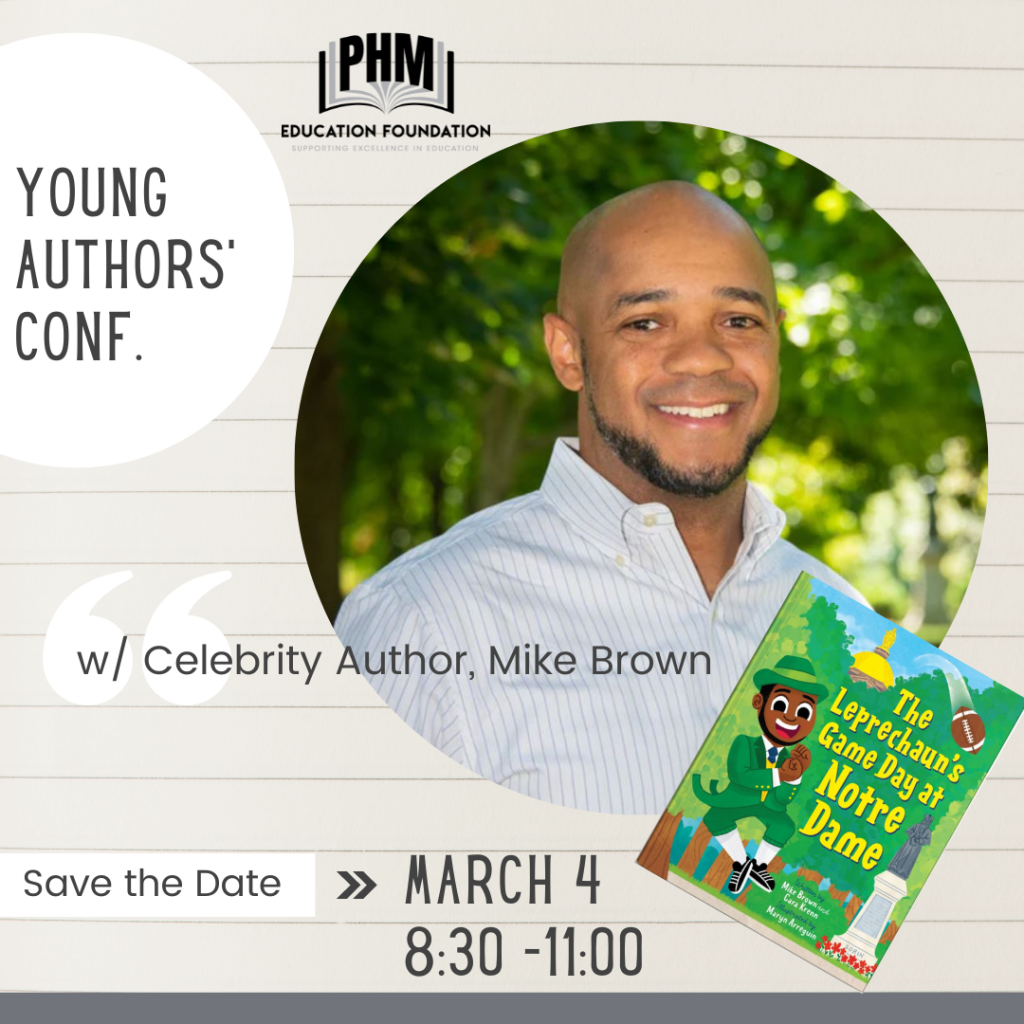 Young Authors' Conference 2023
Posted on January 12, 2023


Save the date for the P-H-M's Young Authors' Conference:
Saturday, March 4
8:30 – 11:00 a.m.
Schmucker Middle School
P-H-M Elementary students, grades K-5
FREE!
Space is limited. Online Registration opens Monday, Jan. 30 & closes Friday, Feb. 17.
The Young Authors' Conference is for P-H-M students in grades K-5. The event, sponsored by the P-H-M Education Foundation, provides an opportunity for students and their parents to meet and learn from a well-known children's authors. Click here to view the photo gallery of the 2022 event.
This year students and their parents will meet and work with former Notre Dame Leprechaun mascot turned children's author Mike Brown. Brown's first book Little Netta's Gift is the touching story of a "Little Netta's" compassion to share the gifts of Christmas with other children. Brown is the founder and CEO of SOULSTIR, a social enterprise with a mission of enriching lives by creating "soul-stirring experiences that inspire empowerment and action." Under SOULSTIR Books, the publishing division of the company, Brown co-authored his second book with Cara Krenn The Leprechaun's Game Day at Notre Dame. The delightful story describes the family, fun-filled experiences of a Notre Dame home football game told through the eyes of Notre Dame's first Black student to play the mascot, Brown himself.
Participants and parents will also enjoy an interactive experience with local illustrator Corey Mann. As part of the morning activities, students will share their own writing piece in small group sessions with students from other P-H-M elementary schools. (Note: Students should bring a piece of their writing with them that morning.) While students are meeting with their peers, parents will join Dr. Michelle Fish, as she explores promoting writing through children's literature.
This year, thanks to P-H-M Superintendent Dr. Jerry Thacker and other generous #GivingTuesday donors this year's Young Authors' Conference is FREE OF CHARGE to all attendees!
Please note, one parent only must accompany the student attendees. However, keep in mind that students and parents will separate for a portion of the day. This experience is for your young author and parent. However, we've found the attendance of younger siblings is not encouraged.
ONLINE REGISTRATION: Registration will open January 30, 2023. Click here to access the form.
CONFIRMATION: Participating students will receive additional information prior to the conference through their home school at the beginning of March.
QUESTIONS: If you have any questions, please contact Candace Cussen at ccussen@phm.k12.in.us.
Last Modified January 18, 2023